"Perhaps the final secret of the Illuminati is that you don't know you're a member until it's too late to get out."- Robert Anton Wilson
It's the early 1990's I am around 5 years old.  My family and I are 'camping' (sleeping in tents) on a small river head about 200 yards from our home. In the middle of the night, I awake, for no apparent reason. The moon was bright, the sky was clear and I could see the darkened outline of the Florida riverbank woodlands clearly. As I take in the monochrome panorama of Spanish moss and twisting branches with the abyss-like darkness of where the shore met the river, on the peripheral of this darkened landscape, I see the silhouette of a man in a full-brim hat just casually standing about 10 feet away from the tent near the riverbank while he looked to be smoking a cigarette. I do not feel fear, but I do feel as if I should go back to sleep and not wake anyone to what I see. So this is what I do, I lay back down and fall back asleep and do not mention this anyone in my family at the time. The memory from this experience is very clear, as if it imprinted on my mind for me to go back in explore at will.  It isn't until about 20 years when I begin to hear of other people's experiences with these 'Shadow People/ Adjustment Bureau/ Earth Coincidence Control Office  or whatever label you want to give them.
It is around 2010 I am in my early 20's on a train in Switzerland from Zurich to Leysin. This is the first time I have ever traveled to another country alone. I am anxious, very tired from the flight, and extremely excited. After the red eye flight over, I bustle my way to the main train station via taxi, which I learned I spent a lot of unneeded money as a train went from the airport to that same station. But I am a neophyte solo traveler and like many people at that age that have not spiritually awakened, having three primary goals in life: party, meet girls, and get good grades in college. I term myself at that time as the materialistic partier; this said I was very open minded, smoked cannabis frequently, and had very little set convictions or dogmas. As the train begins to depart I find a train car that is sparse of people and make myself comfortable for the ride. A young man, around my age sits near to me. He has dark brown hair and friendly, innocent like complexion. He speaks perfect English with no noticeable accent.  Though very tired I enjoy conversing with people so we begin to talk. As he sees my luggage, I let him know I am off to a study abroad program in Leysin. He informs me he is from Bern and had studied in North Carolina in a foreign exchange program himself. An hour into the ride a train conductor comes by to check tickets. The conductor is old, with a head full of gray hair and defined wrinkles in the face, his expression is obvious that he has no liking of his job or people. As he thoroughly scans my ticket his laser like blue eyes, his expression darkens, he begins to angrily speak in Swiss-German (a language I know nothing about) while sternly shaking the ticket at me. Luckily my new train companion, leaps of his seat puts himself between the conductor, and sternly talks back in their harsh native dialect. My train friend tells me that the ticket, which I purchased online weeks earlier, is only valid with the purchase of a second one. Yes, this makes no sense considering I bought it by itself. The young comrade eventually talks down the old grumpy conductor, and lets me know that I will have to pay an additional 40 francs. I hand over the money and thank my friend for soothing everything out, as I felt I would have been taken to Swiss Gulag by the way the conductor was acting. About an hour later we make a stop in Bern where my short-lived friend departs to his home. I now, years later, have come to realize this young man was a 'fixer' and was placed there to ensure my first leg of my trip and a sort of preliminary interview to see some of my character traits.
The train ride continues the second leg from Bern to my stop in Aigle, while my exhaust and travel fatigue grow. A man, who looks to be his 50's possibly even 60's, but in great health, with a rosy complexion, no wrinkles and a full head of black hair, enters the train car and sits to the a few seats down from me. He remarks that I look tired, and we converse about my travels there. He reveals that he is a "Heart Doctor" and Swiss native. While seeming to observe my fatigue, he informs me a way to "wake up."He says the point on the lower part of the head, where it meets the top of the neck/ spine and indents inwards, you can "massage this adrenal point with a knuckle to wake up." In my exhaustion I did this, I do not remember much more of the conversation we had between the adrenal point self-massage and the train ride ending in Aigle, which was probably only about 30 more minutes. Once we arrived in Aigle, he got off the train and escorted me to the bus I would be taking to the Leysin from there. The Swiss valley air was refreshing, with a crisp, pleasant temperature on this early June day and I suddenly do have much more energy. When we arrive at the bus he tells me he will "make sure I am taken care of" and goes to the bus driver and another man standing by the driver and has what seems to be a long conversation in their native Swiss dialectic that I cannot understand. He walks back to me and says everything will be "good for me, and I'll be looked after." He wishes me a great stay and departs as quickly and mysteriously as he arrived. Only years later, through 'alternative' means of consciousness exploration, I realize what actually happened during that encounter.
The top tube is the part of my head that I was rubbing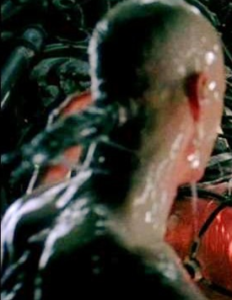 So what does this rambling even mean and what does it have to do with Orbs you say. Well about 3 days later I was on a balcony at the Chateau in Leysin where we, myself plus the other study abroad students, were staying at. It was probably near midnight and no one else was out on the balcony with me. I was gazing at the beautiful, ultra clear night sky, the Swiss Alps painting the background, with clarity that can only be provided by very little light pollution of a small European town and near 4000' altitude. The stars were magnificent, as I stared at their beauty I saw two Orbs, gently floating through the night sky, seemingly high above. They looked similar to an average, medium-lit star, with a similar luminosity and color, however moving though the sky a slow but steady pace. Being the materialistic partier I was at the time, with little spiritual knowledge or care, I thought maybe satellites, knowing they weren't by their movement patterns though, as they sharply, but subtlety zigged and zagged. Maybe shooting stars I told myself, but shooting stars are much faster and leave a 'trail.'My third thought was they are possibly UFOs, I was still very open-minded, just ignorant, and had grown up watching Independence Day, Men in Black, and many episodes of X-files,. The Orbs, however just looked like self-sustaining balls of light, not the Hollywood saucer that I had grown up watching.  During the next 3 months of the remainder of the trip, in between traveling to many of the other European countries every other week, when we were back at the Chateau I would likely see at least one or two Orbs every night I cared to look.
Since these Orbs kind of just floated along, being the materialistic partier I was and back at FSU, I kind of just forgot about them for a while. However about a year later, I took the red pill, dove heard first down the rabbit hole, and began my 'spiritual awakening.' During that time when I would go to the front of the house I was staying at, sometimes, not always, when I looked in the sky I would see an orb or a few, just floating by, as if incognito slowly moving stars. I would even point them out to friends who would also observe them. Some would write them off as planes, yet every plane I have ever seen has blinking lights per FAA regulation, and easily discernible compared to an Orb; as planes/helicopter are not a continuously glowing Orb of light, slowly moving through the sky. Others would speculate they are satellites (which I could write a post about if satellites truly exist as we believe, since most information data is transferred via underwater/ground cables and sky-wave propagation, look it up.) If these Orbs were satellites then the luminosity was interesting to say the least, and sometimes they would zig-zag sharply, sometimes even loop, as well as accelerate/ decelerate in ways that seemed to defy aviation physics. Above all of the simple observations putting doubt that it was something man-made, at least with the technology we know about, my intuition knew it was something else; an intuition that I had now begun to cultivate and grow via mediation, contemplation, Kundalini exercises, and proper entheogen use.
Years have passed and I see these Orbs almost anytime I go out at night. I have presented them to many witnesses, some trying to justify them to fit their 'reality-tunnel paradigm' while others knew they were things that could not be explained by modern 'mainstream' terms.
Out of the now hundreds of Orb I have seen, I have only had three, let's say 'close encounters'.  Most Orbs kind of float along and slowly fade away or even instantly just disappear. The first of these three encounters was about 4 years after my initial Orb spotting in Switzerland. I was back near my original home, in a different house, but about two miles down the same Florida river head where my "Shadow Person" spotting occurred when I was a child. I was jogging on the circular-esque main road of my neighborhood and it was around 9 pm and the sky was not very clear due to cloud coverage. When I was on the street closest to the river, about 300 yards from the river, I saw an Orb except it was low, very low. It was maybe 40-50 feet high, so close in fact I saw it with detail. The Orb was small around the size of a full size soccer ball, it was white, basically the same color as any other star except close. The structure seemed to be what could be described as plasma, similar movements to that of a flame. It just followed directly to my right side, not far above the roof lines of a two story home, for about 1 minute, then just floated out of view. There was no communication at least consciously, whether psychic or physical (I will expand on this more depth further in this writing.) I had the distinct feeling it was observing me and sentient, but I did not feel fear or that it was malevolent.
This is not a picture I took, but pretty accurate of what I saw following by my side for the brief encounter, just closer.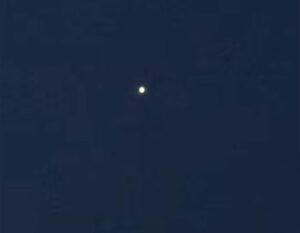 Experience two. In Florida during the summer in certain areas during night, there is heat lightning, being "Heat lightning, also known as silent lightning, summer lightning, or dry lightning, is a misnomer used for the faint flashes of lightning on the horizon or other clouds from distant thunderstorms that do not appear to have accompanying sounds of thunder." One night I was observing quite an amazing heat lighting show, when I saw an Orb, this Orb looked lower than the usual I see, but still at a higher altitude than my first, probably around the height of a news helicopter. This Orb just kind of stopped moving, since it was stationary and at a 'lower' altitude, combined with the extravagant heat lightning show in the background, I grabbed my android phone out of my pocket and began to record. Literally the moment I got my phone's camera pointed toward the Orbs vicinity my phone rang. I look at the number; it has the same area code, but was not a known contact. Usually I don't answer but for some reason I then I did. On the other end is a voice that still gives me creeps thinking about it, basically what sounded like an artificial/ demonic voice in the form of a possessed old woman. The woman says, "Jessie," which in itself was a frightening synchronicity, as Jessie was the name of a girl I had been hanging out with earlier that day, and was not someone I usually hung out with at the time. "Jessie, there is blood coming out of my eyes and ears, help me, please help." Something about the voice and that combination of words induced a primal fear I have yet to feel since. I rushed back inside my house and felt a strong presence that literally made all my hairs stand-up and my spine feel like a vibrating tuning fork, similar to spinal effects of Kundalini Yoga I had experienced before, but not pleasant. I knew immediately to delete whatever footage I had; even saying out loud "Sorry I will delete it." To which I did at once and I slowly felt the 'finger-nails down a chalkboard presence' depart. This was not a pleasant experience and one where I felt fear and malice. I, like most recently college graduated millennials at the time was living with my mom, came upstairs to my collect myself, and she said, "It looks like you saw a ghost." An expression she never used before and has never used since.
The third experience was thankfully very similar to the first and seemingly neutral. It was around 3 pm and partly cloudy, but plenty of light. I was in the backyard (a different house but within a mile or so of the same areas as before). Overhead there were a large number of vultures, the area usually had some flying around there, but this day there had to be 4-5x the regular amount, at least over 50 birds. The vultures circled while drifting towards my house, with a very tight and centered 'hurricane like' eye. As the center of this bird vortex came above my roof, they were only about 25 feet in the air, there is an Orb. The birds seem to be directed by this Orb and circling it. It is probably the size of a softball, not very luminescent. The same color but not emanating light like the others had seemed to at night. The Orb, with the army of birds stopped, and it was as if Orb was 'looking' at me while I was looking at it, while the birds still circled. My cat was outside with me and sat down and noticed the Orb as well, though he acted as if he had seen cooler things in typical cat fashion. It stayed for about 30 seconds, then just slowly drifted, back the way it came along with the vultures. Again there was no seeming communication and no intense emotions that arose in me or creepy phone calls.  Another neutral case.
The Vultures were like this except there were over 50 and the circle in the middle was tighter and smaller, with the Orb directly center, as if the eye of a hurricane.
To this day I see Orbs, seemingly high in the sky almost anytime I care to look mostly at night. Though it is primarily orbs I have witnessed, I have seen, not recently though, a handful of cylinder tube like shapes and even more rare, a few triangle shaped 'orbs'. So what are they?
It is important before we go further to recognize that everything is energy. Consciousness is energy. Information is energy.  Light is energy. Light is information. Light is consciousness. Consciousness is everything. You are consciousness.  "All is mind the Universe is Mental." "Light and Consciousness are two phenomena of the same thing; to a lesser degree of Consciousness, corresponds to a lesser degree of light; to a greater degree of Consciousness, a greater degree of light." (Read Chapters 3 & 4 in the Logoi Book for more detail). Also keep in mind the story of Flatland: A Romance of Many Dimensions; being a Square in a two dimensional Universe is visited by a three-dimensional sphere. Similar to the "points" in Lineland, the Square is unable to see the sphere as anything other than a circle. The Sphere then levitates up and down through the Flatland, allowing Square to see the circle expand and retract."
With this said I feel these Orbs are sentient beings, possibly connected to ourselves and our nervous systems/ consciousness (though everything is). From my perspective this is the same as coming from a different realm/ dimension that I interpreted as an Orb when viewed, via my greatly limited physical perception. How they are seen would probably be subjective and vary according to each person and their beliefs/ reality paradigms. These Orbs seem as if they can be 'summoned' or part of a phenomena of Consciousness not currently understood by most people. I also feel that by viewing these Orbs, the light emitted from them literally goes into our brain and other feedback systems. As light is information, I think this information could be kind of like 'encrypted data' that our mind and sub-conscious store and slowly (maybe instantaneously also) is 'decrypted' via our Consciousness and nervous system. "The Logos would be living information, capable of replicating. Replicating not through information/ in information, but as information...As living information the plasmate travels up the optic nerve of a human to the pineal body."-VALIS I also get the feeling that the realm/ dimension these Orbs are from have a different set of 'laws' with 'space' and especially in regard to time. Maybe not where are they from, but when are they from could be more accurate.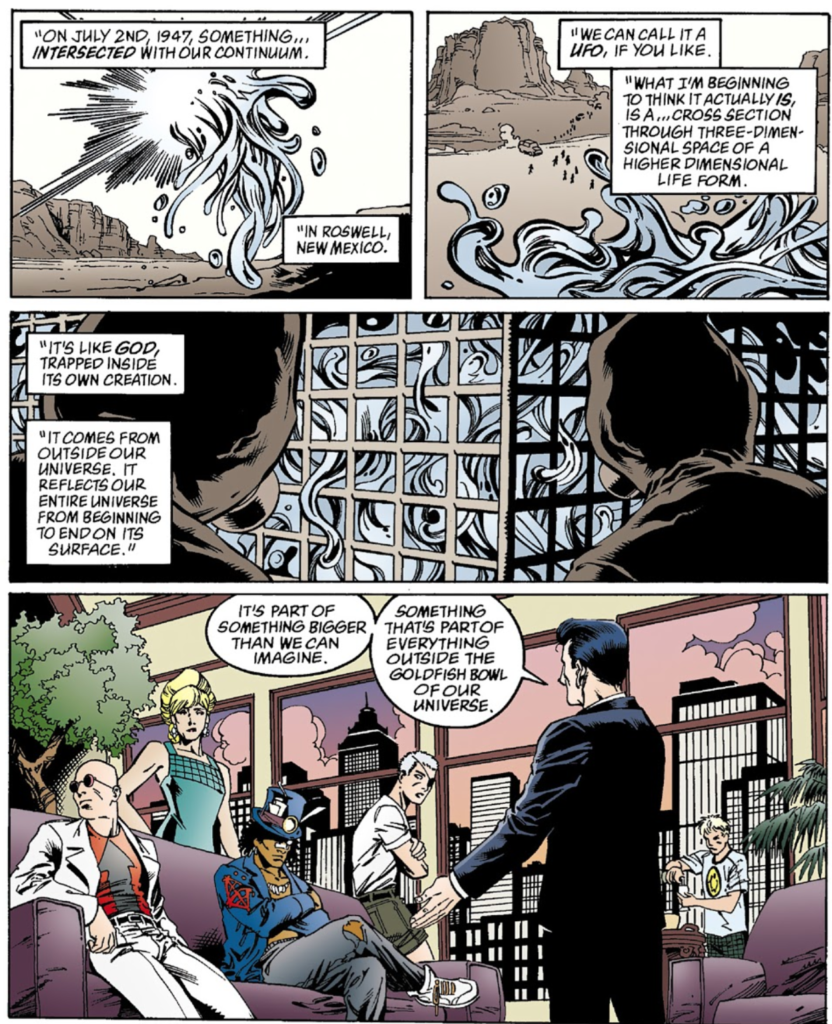 This writing is an account of my own experiences as well my intuitive feelings. I have no 'physical evidence' to produce nor do I care to prove anything to anybody. Nothing is more true or real than your own experience.
Share any personal experiences that go beyond the general mainstream understanding of 'reality' and Consciousness that you have had. You do not need to enter name or email to comment.
Nothing is true, everything is possible. Think for yourself, question everything.