This theory is of an underlying conspiracy against all of humanity on a physical, mental and spiritual level. With this theory it would appear the world is a bad dream/hologram, matrix like prison farm. It seems the world could be controlled by a self serving, overlying and underlying force. The anti-thesis and inversion of empathetic, playful, loving, nurturing and helpful qualities humans possess. A parasite of the mind, body and spirit sometimes termed Weitko. Possibly we (our true-selves) created it in someway, maybe in error, as a catalyst for spiritual/conscious evolution.
"The Black Iron Prison is a concept of an all-pervasive system of social control postulated in the Tractates Cryptica Scriptura, a summary of an unpublished Gnostic exegesis included in VALIS. The Empire is a psychological as well as a military state. It exists as a mental construct, as a psychopathic state of mind, as a system of control. It exists in all of us. All of us are infected with this thought-form virus. This is the true meaning of "The Empire." It's what Philip K Dick means when he says, The Empire Never Ended." - CJ Stone
Transcript from video:
"An illusion it will be, so large, so vast it will escape their perception. Those who will see it will be thought of as insane.  We will always stand above the relative field of their experience for we know the secrets of the absolute. We will work together always and will remain bound by blood and secrecy. Death will come to he who speaks.
We will create separate fronts to prevent them from seeing the connection between us. We will behave as if we are not connected to keep the illusion alive. Our goal will be accomplished one drop at a time so as to never bring suspicion upon ourselves. This will also prevent them from seeing the changes as they occur.
We will keep their lifespan short and their minds weak while pretending to do the opposite. We will use our knowledge of science and technology in subtle ways so they will never see what is happening. We will use soft metals, aging accelerators and sedatives in food and water, also in the air. They will be blanketed by poisons everywhere they turn.
The soft metals will cause them to lose their minds. We will promise to find a cure from our many fronts, yet we will feed them more poison. The poisons will be absorbed through their skin and mouths, they will destroy their minds and reproductive systems. From all this, their children will be born dead, and we will conceal this information.
The poisons will be hidden in everything that surrounds them, in what they drink, eat, breathe and wear. We must be ingenious in dispensing the poisons for they can see far. We will teach them that the poisons are good, with fun images and musical tones. Those they look up to will help. We will enlist them to push our poisons.
They will see our products being used in film and will grow accustomed to them and will never know their true effect. When they give birth we will inject poisons into the blood of their children and convince them it's for their health. We will start early on, when their minds are young, we will target their children with what children love most, sweet things.
When their teeth decay we will fill them with metals that will kill their mind and steal their future. When their ability to learn has been affected, we will create medicine that will make them sicker and cause other diseases for which we will create yet more medicine. We will render them docile and weak before so they succumb to us and our power. They will grow depressed, slow and obese, and when they come to us for help, we will give them more poison.
We will focus their attention toward money and material goods so they may never connect with their inner self. We will distract them with fornication, external pleasures and games so they may never be one with the oneness of all. Their minds will belong to us and they will do as we say. If they refuse we shall find ways to implement mind-altering technology into their lives.
We will use fear as our weapon. We will establish their governments and establish opposites within. We will own both sides. We will always hide our objective but carry out our plan. They will perform the labor for us and we shall prosper from their toil.
Our families will never mix with theirs. Our blood must be pure always, for it is the way. We will make them kill each other when it suits us. We will keep them separated from the oneness by dogma and religion. We will control all aspects of their lives and tell them what to think and how. We will guide them kindly and gently letting them think they are guiding themselves.
We will excite animosity between them through our factions. When a light shall shine among them, we shall extinguish it by ridicule, or death, whichever suits us best. We will make them rip each other's hearts out and kill their own children. We will accomplish this by using hate as our ally, anger as our friend. The hate will blind them totally, and never shall they see that from their conflicts we emerge as their rulers.
They will be busy killing each other. They will bathe in their own blood and kill their neighbors for as long as we see fit.
We will benefit greatly from this, for they will not see us, for they cannot see us. We will continue to prosper from their wars and their deaths. We shall repeat this over and over until our ultimate goal is accomplished. We will continue to make them live in fear and anger though images and sounds. We will use all the tools we have to accomplish this. The tools will be provided by their labor. We will make them hate themselves and their neighbors.
We will always hide the divine truth from them, that we are all one. This they must never know! They must never know that color is an illusion, they must always think they are not equal. Drop by drop, drop by drop we will advance our goal. We will take over their land, resources and wealth to exercise total control over them. We will trick them into accepting laws that will steal the little freedom they will have. We will establish a money system that will imprison them forever, keeping them and their children in debt.
When they shall ban together, we shall accuse them of crimes and present a different story to the world for we shall own all the media. We will use our media to control the flow of information and their sentiment in our favor. When they shall rise up against us we will crush them like insects, for they are less than that. They will be helpless to do anything for they will have no weapons.
They must never learn this truth for they will turn against us. For their work they will be rewarded with earthly things and great titles, but never will they become immortal and join us, never will they receive the light and travel the stars. They will never reach the higher realms, for the killing of their own kind will prevent passage to the realm of enlightenment. This they will never know.
The truth will be hidden in their face, so close they will not be able to focus on it until its too late. Oh yes, so grand the illusion of freedom will be, that they will never know they are our slaves.
When all is in place, the reality we will have created for them will own them. This reality will be their prison. They will live in self-delusion. When our goal is accomplished a new era of domination will begin. Their minds will be bound by their beliefs, the beliefs we have established from time immemorial.
But if they ever find out they are our equal, we shall perish then. THIS THEY MUST NEVER KNOW. If they ever find out that together they can conquer us, they will take action. They must never, ever find out what we have done, for if they do, we shall have no place to run, for it will be easy to see who we are once the veil has fallen. Our actions will have revealed who we are and they will hunt us down and no person shall give us shelter."-The Secret Covenant, Author Unkown
"These evil sorcerers, dugpas, they call them, cultivate evil for the sake of evil and nothing else. They express themselves in darkness for darkness, without leavening motive. This ardent purity has allowed them to access a secret place of great power, where the cultivation of evil proceeds in exponential fashion. And with it, the furtherance of evil's resulting power. These are not fairy tales, or myths. This place of power is tangible, and as such, can be found, entered, and perhaps, utilized in some fashion. The dugpas have many names for it, but chief among them is the Black Lodge..." Twin Peaks
 SYZYGY
LIVE-EVIL  II  LOVE-EVOL
POLARITY
Structure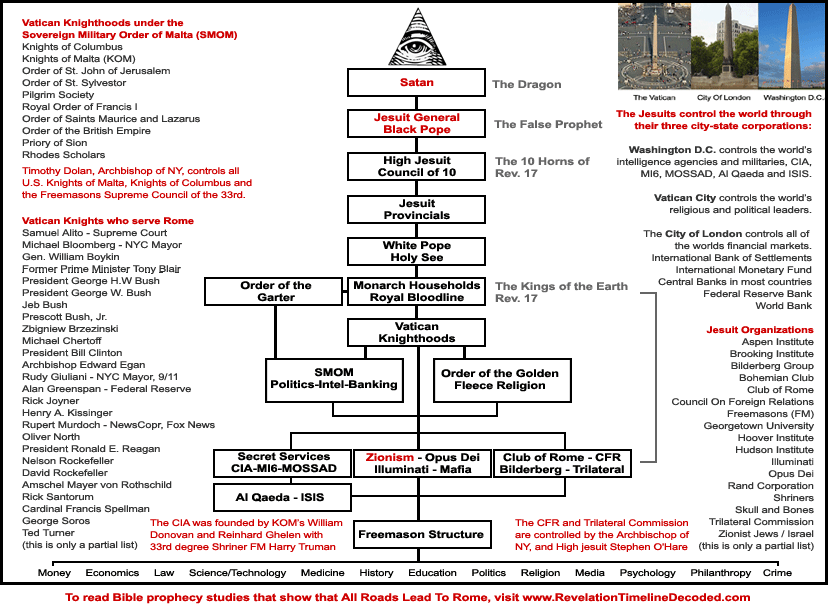 *I interpret the Book of Revelation and term "Satan" differently than used here but the structure of organizations seems accurate enough to get the idea.
Masters of Manipulation: The Cult of Inversion is what I call the rulers of this realm. They go by many names, with many fronts in many different languages, changing them when needed. They use a hierarchical structure: with the Hylic (robot-zombie) citizen slaves on the bottom, the puppets in the middle with vast wealth and power (politicians/executives) , their puppet masters in corrupted esoteric systems, their masters that are inter/hyper/ultra dimensional  beings (Archons/Demons etc) who are slaves to the Demiurge, who paradoxically is a slave to its own creation and self. They are energy and spiritual parasites/vampires that feed and gain sustenance off the negative/lower mind emotional, mental and physical energy we give off in the form of fear, anger, violence, stress etc. The reality as we know it is purposely engineered to create these emotions in humanity as we all struggle to make ends meet. The constant debt, work, consumption, traffic, stress, hardships and the daily grind- all purposely created.
This energy they seek to feed off of has been termed loosh, or garmonbozia and should be further studied.  From Robert Monroe and the Monroe Institute:  Loosh is "life force energy (spiritual energy), is just simply energy, and includes the energy familiar to us as emotional energy both happy and unhappy. Most notably, as terminology of rare usage, "loosh," per se, was the word devised by Robert Monroe referring to the emotional energy radiated by animals and humans in dire circumstances that entail intense, severe pain and suffering in body and psyche. And so, "loosh," in this older usage, described a negative experiential spectrum."  The term "garmonbozia" comes from Twin Peaks and "was synonymous with pain and sorrow. It was a source of sustenance for certain spirits…"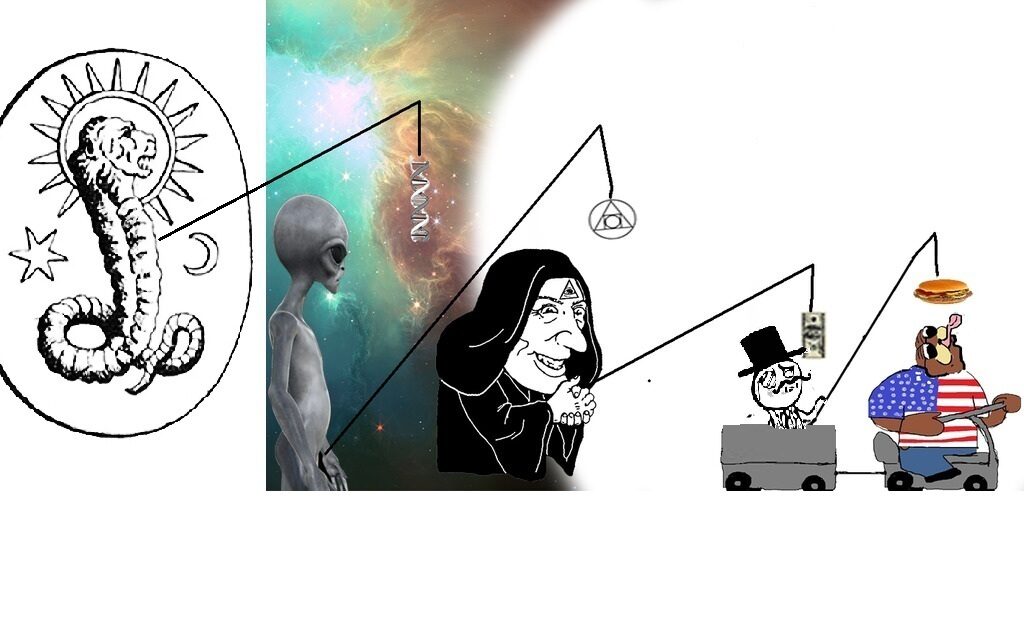 One interpretation of this hierarchy is the Demiurge uses control/manipulation of matter/DNA to use the Archons/Demons, who use powerful occult knowledge/magick to control the members of inverted esoteric systems, they use their fiat magick money to control the wealthy puppets, whom use base desires and materialistic nihilism to control the masses. (this is expanded on later in this chapter.)
As mentioned in the reality war theory in chapter 5; if the world were being fought over by one side of unconditional love and its shadow of unconditional evil, fear and hatred; then obviously the loving side would be losing, at least seemingly, to the side of hatred. Simply because the evil would have no constraints to meeting whatever end satisfied it. No worry of any others and the pain and suffering created would matter to it and it would commit and have any/every violent atrocity, abomination and filth at its disposal.  The loving side would be constrained by its own nature, while the side of abominations would expand by its own nature.  It is easier to destroy than create.
If this world was ran by a demonic force that wanted nothing more than to delight in your despair, humiliation and suffering, they would make a mockery and parody of everything that people held close. One of the most inverted things to do would make people's heroes and "role models" nothing but the most vile, disgusting, despicable things you could create/put in power. I wouldn't doubt for a second that the celebrities/politicians we thought to be the most wholesome, kind, gentle and caring are the biggest predators out there (Jimmy Savile, Bill Cosby, Epstein and pals). The royals for instance are just a family that has imperialized, murdered, overthrew, destroyed and stolen anything they have wanted, yet are worshiped as gods. Do not be surprised when it is revealed.
One way it works is politicians/executives/celebrities (a vast majority on both sides politically) are perverted, greedy, selfish puppets with pathological personalities (sociopath/psychopath). They join esoteric societies and get honey trapped/blackmailed by the puppet masters. A recent example being that of NXIVM with celebs/billionaires/executives as members; another with Jeffery Epstein's island, who was a gate-keeper for one of these cults that had politicians/executives/royals etc. It is important to remember that at the highest levels it is not about power or money, the puppet masters have an unlimited amount of both. It is about creating as much (subtly of course) fear, stress, anxiety, hate, violence, division etc as possible. This creates food for the inter-dimensional beings they worship; the system is a perverted/corrupted/inverted hybrid of Gnosticism, Hermetics and Voudon. I have no care if you believe it is real, but I guarantee the most powerful people in the world do, and practice this. This abuse is ritual and also why Epstein has a temple, as certain geometric patterns amplify the violent, vile energy they seek to produce. Research this for yourself, think for yourself and question everything. Do not take anyone's word for it including mine.
I would assume they would also infiltrate all religions, philosophies, and esoteric systems/orders to make their followers and leaders practice an inverted form of the true teachings. This may be why we see so much hypocrisy, extremism, and blasphemy from many followers/leaders of religion.  Any social cause for betterment would be infiltrated, co-opt, debased, and turned into controlled opposition.
Ephesians 6:12, KJV: "For we wrestle not against flesh and blood, but against principalities, against powers, against the rulers of the darkness of this world, against spiritual wickedness in high places."
Methods of Manipulation and Control
They control the masses through a multilayered system that is all encompassing. They have a deep understanding of ego manipulation, occult psychology and magick (manipulation of energy) and seek to invert, debase and corrupt everything in any and all ways. They tell you what to think and how to think; while making you believe that you are the one coming up with the thought. They are the ones that make us believe money has any value, by gas lighting and tricking us into giving our time, mind, body and spiritual energy in exchange for their fiat currency. Some easy to see inversions is how they give you poison in the form of medicine, anti-nutrition in the form of food, criminal corruption in the form of law and justice, corporate bribery and elitism in the form of democracy ,propaganda and lies in the form of news and so on and so forth.
"Just look at us. Everything is backwards, everything is upside down. Doctors destroy health, lawyers destroy justice, psychiatrists destroy minds, scientists destroy truth, major media destroys information, religions destroy spirituality and governments destroy freedom." ― Michael Ellner
"Forget the politicians. The politicians are put there to give you the idea you have freedom of choice. You don't. You have no choice. You have owners. They own you. They own everything. They own all the important land, they own and control the corporations they've long since bought and paid for, the senate, the congress, the state houses, the city halls, they got the judges in their back pocket, and they own all the big media companies so they control just about all of the news and the information you get to hear. They got you by the balls. They spend billions of dollars every year lobbying to get what they want. Well, we know what they want. They want more for themselves and less for everybody else. But I'll tell you what they don't want. They don't want a population of citizens capable of critical thinking. They don't want well informed, well educated people capable of critical thinking. They're not interested in that. That doesn't help them." George Carlin
Another interpretation of the controlling hierarchy physical aspect:
"Over the centuries, the 13 blood-lines connected to Cain have successfully procured and centralized wealth by utilizing strategic marriage, controlled inheritance, and the ponzi scheme of central banking. Careful to only intermarry with other elitist families they have come to control most of the wealth and power of the world. The power of their Satanic blood-lines are such that they print the money which is used by the central banks of the world to sustain commerce through all of the oil conglomerates, media groups, defense contractors, entertainment companies, and pharmaceutical groups owned by them in mass. They use a perfected method by nation building and by loaning money to puppet dictators, are able to strap countries with debt, and then using fiscal reserve lending hire all of the transnational companies owned by them as means to create a stock and commodities market to then centralize, manipulate, and steal the rest the other wealth of various citizens in all parts of the world"
Dialetics
A primary psychological controlling paradigm is through strategic divide and conquer by using dialectics.  They give you two "options" both as corrupt and flawed as the other yet making the follower believe they have absolute truth, high virtue and intelligence through ones egos and identification with the system. Republican Vs Democrat, Left Vs Right, Theism Vs Atheism, Pro Vs Anti, the list could go on ad infinitum.
Solution: Think for yourself, question everything. Observe the engineered dichotomies that appeal to people's egos and the emotional reactions they have. If you see the media focusing on a topic that will create a divide in people just ignore it, there are better things to put your energy to.  Identify dialectics to anyone that is opened-minded and WANTS to listen, do not preach this to people or you may create your own dialectics.
Inverted Philosophies:  Hermeticism, Gnosticism, Occultism, Magick
Just like the cult of inversion manipulates other systems with corruption, for instance most mainstream religion takes you away from spirituality and feeds the ego, the legal system brings corruption not justice, the media gives propaganda and lies not news or truth, the medical system gives poison instead of healing, etc.  They invert the original teachings, wisdom and knowledge in a mockery of everyone/ Source/God.  They have infiltrated and inverted esoteric societies for self-serving interests of exploitation, power, profit and loosh. This excerpt from the book, 1984, in my opinion gives a great perspective on how they use debased Hermeticism/Magick for their own power; I perceive it as more truth than fiction:
"We are the priests of power,' he said. 'God is power. But at present power is only a word so far as you are concerned. It is time for you to gather some idea of what power means. The first thing you must realize is that power is collective. The individual only has power in so far as he ceases to be an individual. You know the Party slogan: "Freedom is Slavery". Has it ever occurred to you that it is reversible? Slavery is freedom. Alone—free—the human being is always defeated. It must be so, because every human being is doomed to die, which is the greatest of all failures. But if he can make complete, utter submission, if he can escape from his identity, if he can merge himself in the Party so that he is the Party, then he is all-powerful and immortal. The second thing for you to realize is that power is power over human beings. Over the body but, above all, over the mind. Power over matter—external reality, as you would call it—is not important. Already our control over matter is absolute.'
For a moment Winston ignored the dial. He made a violent effort to raise himself into a sitting position, and merely succeeded in wrenching his body painfully.
'But how can you control matter?' he burst out. 'You don't even control the climate or the law of gravity. And there are disease, pain, death——'
O'Brien silenced him by a movement of his hand. 'We control matter because we control the mind. Reality is inside the skull. You will learn by degrees, Winston. There is nothing that we could not do. Invisibility, levitation—anything. I could float off this floor like a soap bubble if I wish to. I do not wish to, because the Party does not wish it. You must get rid of those nineteenth-century ideas about the laws of Nature. We make the laws of Nature.'
'But you do not! You are not even masters of this planet. What about Eurasia and Eastasia? You have not conquered them yet.'
'Unimportant. We shall conquer them when it suits us. And if we did not, what difference would it make? We can shut them out of existence. Oceania is the world.'
'But the world itself is only a speck of dust. And man is tiny helpless! How long has he been in existence? For millions of years the earth was uninhabited.'
'Nonsense. The earth is as old as we are, no older. How could it be older? Nothing exists except through human consciousness.'
'But the rocks are full of the bones of extinct animals—mammoths and mastodons and enormous reptiles which lived here long before man was ever heard of.'
'Have you ever seen those bones, Winston? Of course not. Nineteenth-century biologists invented them. Before man there was nothing. After man, if he could come to an end, there would be nothing. Outside man there is nothing.'
'But the whole universe is outside us. Look at the stars ! Some of them are a million light-years away. They are out of our reach for ever.'
'What are the stars?' said O'Brien indifferently. 'They are bits of fire a few kilometres away. We could reach them if we wanted to. Or we could blot them out. The earth is the centre of the universe. The sun and the stars go round it.'
Winston made another convulsive movement. This time he did not say anything. O'Brien continued as though answering a spoken objection:
'For certain purposes, of course, that is not true. When we navigate the ocean, or when we predict an eclipse, we often find it convenient to assume that the earth goes round the sun and that the stars are millions upon millions of kilometres away. But what of it? Do you suppose it is beyond us to produce a dual system of astronomy? The stars can be near or distant, according as we need them. Do you suppose our mathematicians are unequal to that? Have you forgotten doublethink?'
Winston shrank back upon the bed. Whatever he said, the swift answer crushed him like a bludgeon. And yet he knew, he knew, that he was in the right. The belief that nothing exists outside your own mind—surely there must be some way of demonstrating that it was false? Had it not been exposed long ago as a fallacy? There was even a name for it, which he had forgotten. A faint smile twitched the corners of O'Brien's mouth as he looked down at him.
'I told you, Winston,' he said, 'that metaphysics is not your strong point. The word you are trying to think of is solipsism. But you are mistaken. This is not solipsism. Collective solipsism, if you like. But that is a different thing: in fact, the opposite thing. All this is a digression,' he added in a different tone. 'The real power, the power we have to fight for night and day, is not power over things, but over men.' He paused, and for a moment assumed again his air of a schoolmaster questioning a promising pupil: 'How does one man assert his power over another, Winston?'
Winston thought. 'By making him suffer,' he said.
'Exactly. By making him suffer. Obedience is not enough. Unless he is suffering, how can you be sure that he is obeying your will and not his own? Power is in inflicting pain and humiliation. Power is in tearing human minds to pieces and putting them together again in new shapes of your own choosing. Do you begin to see, then, what kind of world we are creating? It is the exact opposite of the stupid hedonistic Utopias that the old reformers imagined. A world of fear and treachery is torment, a world of trampling and being trampled upon, a world which will grow not less but more merciless as it refines itself. Progress in our world will be progress towards more pain. The old civilizations claimed that they were founded on love or justice. Ours is founded upon hatred. In our world there will be no emotions except fear, rage, triumph, and self-abasement. Everything else we shall destroy—everything. Already we are breaking down the habits of thought which have survived from before the Revolution. We have cut the links between child and parent, and between man and man, and between man and woman. No one dares trust a wife or a child or a friend any longer. But in the future there will be no wives and no friends. Children will be taken from their mothers at birth, as one takes eggs from a hen. The sex instinct will be eradicated. Procreation will be an annual formality like the renewal of a ration card. We shall abolish the orgasm. Our neurologists are at work upon it now. There will be no loyalty, except loyalty towards the Party. There will be no love, except the love of Big Brother. There will be no laughter, except the laugh of triumph over a defeated enemy. There will be no art, no literature, no science. When we are omnipotent we shall have no more need of science. There will be no distinction between beauty and ugliness. There will be no curiosity, no enjoyment of the process of life. All competing pleasures will be destroyed. But always—do not forget this, Winston—always there will be the intoxication of power, constantly increasing and constantly growing subtler. Always, at every moment, there will be the thrill of victory, the sensation of trampling on an enemy who is helpless. If you want a picture of the future, imagine a boot stamping on a human face—for ever.'
He paused as though he expected Winston to speak. Winston had tried to shrink back into the surface of the bed again. He could not say anything. His heart seemed to be frozen. O'Brien went on:
'And remember that it is for ever. The face will always be there to be stamped upon. The heretic, the enemy of society, will always be there, so that he can be defeated and humiliated over again. Everything that you have undergone since you have been in our hands—all that will continue, and worse. The espionage, the betrayals, the arrests, the tortures, the executions, the disappearances will never cease. It will be a world of terror as much as a world of triumph. The more the Party is powerful, the less it will be tolerant: the weaker the opposition, the tighter the despotism. Goldstein and his heresies will live for ever. Every day, at every moment, they will be defeated, discredited, ridiculed, spat upon and yet they will always survive. This drama that I have played out with you during seven years will be played out over and over again generation after generation, always in subtler forms. Always we shall have the heretic here at our mercy, screaming with pain, broken up, contemptible—and in the end utterly penitent, saved from himself, crawling to our feet of his own accord. That is the world that we are preparing, Winston. A world of victory after victory, triumph after triumph after triumph: an endless pressing, pressing, pressing upon the nerve of power. You are beginning, I can see, to realize what that world will be like. But in the end you will do more than understand it. You will accept it, welcome it, become part of it.'
Winston had recovered himself sufficiently to speak. 'You can't!' he said weakly.
'What do you mean by that remark, Winston?'
'You could not create such a world as you have just described. It is a dream. It is impossible.'
'Why?'
'It is impossible to found a civilization on fear and hatred and cruelty. It would never endure.'
'Why not?'
'It would have no vitality. It would disintegrate. It would commit suicide.'
'Nonsense. You are under the impression that hatred is more exhausting than love. Why should it be? And if it were, what difference would that make? Suppose that we choose to wear ourselves out faster. Suppose that we quicken the tempo of human life till men are senile at thirty. Still what difference would it make? Can you not understand that the death of the individual is not death? The Party is immortal.'
As usual, the voice had battered Winston into helplessness. Moreover he was in dread that if he persisted in his disagreement O'Brien would twist the dial again. And yet he could not keep silent. Feebly, without arguments, with nothing to support him except his inarticulate horror of what O'Brien had said, he returned to the attack.
'I don't know—I don't care. Somehow you will fail. Something will defeat you. Life will defeat you.'
'We control life, Winston, at all its levels. You are imagining that there is something called human nature which will be outraged by what we do and will turn against us. But we create human nature. Men are infinitely malleable. Or perhaps you have returned to your old idea that the proletarians or the slaves will arise and overthrow us. Put it out of your mind. They are helpless, like the animals. Humanity is the Party. The others are outside—irrelevant.'
'I don't care. In the end they will beat you. Sooner or later they will see you for what you are, and then they will tear you to pieces.'
'Do you see any evidence that that is happening? Or any reason why it should?'
'No. I believe it. I know that you will fail. There is something in the universe—I don't know, some spirit, some principle—that you will never overcome…..'
Solution:  Think for yourself, study philosophies, religions and esoteric systems for yourself. Most people want to be told what something means by someone else, this just gives them one limited perspective. You must take the time to thoroughly educate yourself on the points and counter-points (pros/cons) of a system. Then interpret the teachings through your own spectrum of experience. Do not trust people in power, mainstream interpretations or anything that is said to be truth without investigating in depth for yourself.
History
"Who controls the past controls the future. Who controls the present controls the past."-1984
"History is written by the victors"
If I were going to control a loving and empathetic race I would make sure to completely debase/corrupt their history. They tell us we come from blood/power lusting ancestors that have been killing each other and committing all sorts of atrocities from the beginning of time. They tell us we come from a stupid group of Neanderthals that barely survived, yet looking at the architecture it is obvious we have devolved. I believe our entire history is a lie as well as our cosmology.
Solution
Think for yourself, trust no one, question everything.
You can research these alternative theories and come up with you own conclusions. I personally like the mud flood theory, Tartary/alternate history theory, new earth theory, concave earthy/cellular cosmology theory, reset theory, and expanding earth theory. Others theories to ponder are the: Tychos model, electronic universe, flat earth, hollow earth, Dyson sphere, Stationary earth, geocentric and other theories of alternative historical/cosmological theories. Remember nothing is true, everything is possible.
Ego, Arrogance, and Ignorance
"If a man is born ignorant, to parents that are ignorant, in a society that is ignorant, lives a life of ignorance and eventually dies in ignorance... ignorance is a norm. Thus indoctrination can be called education, hypnotism can be called entertainment, criminals can be called leaders, and lies can be called truth, because his mind was never truly his own." - Unkown
Many people are ignorant of their arrogance and arrogant of their ignorance. They are ignorant of their own ignorance, yet so arrogant they believe they are not. Most people do not want to hear other points of view and enjoy living in an echo chamber. The world has been engineered to become a Dialectic Idiocracy. It is a simple concept, people are ignorant yet so arrogant that they believe they have all the answers and their way is the best/only way. They don't recognize their truth is based on perspective. This is most noticeable in politics and religion. They get caught in Dialectics, usually ignorant about the facts from their 'own side' and the others; a manipulation of egos that are unaware they are being played like pawns.  The Masters have engineered dichotomies that are the two sides of the same coin, and people rarely realize there is more than one coin. For instance Theism vs. Atheism , both accept/rely each other for their own existence, both usually being ignorant of the philosophies of Gnostics, Hermetics, Occultism, and Chaos Magick, or just automatically think it is bad from being conditioned to think so without investigation.
In the age of information ignorance is a choice.
Personally I define this arrogant ignorance as stupidity.
"People are stupid; given proper motivation, almost anyone will believe almost anything. Because people are stupid, they will believe a lie because they want to believe it's true, or because they are afraid it might be true. People's heads are full of knowledge, facts, and beliefs, and most of it is false, yet they think it all true. People are stupid; they can only rarely tell the difference between a lie and the truth, and yet they are confident they can, and so are all the easier to fool." -Wizard's First Rule
Solution:  Work on your own ego by meditation, contemplation, proper entheogen use, and willpower. Expand your perception by educating yourself and take the time to look at things from another perspective. Don't engage in arguments or debates with people, only talk to those that are interested. Think for yourself; don't fall into the dialectic traps.
Mass hypnotism/Propaganda
"The conscious and intelligent manipulation of the organized habits and opinions of the masses is an important element in democratic society. Those who manipulate this unseen mechanism of society constitute an invisible government which is the true ruling power of our country. ...We are governed, our minds are molded, our tastes formed, our ideas suggested, largely by men we have never heard of. This is a logical result of the way in which our democratic society is organized. –Edward Bernays, Propaganda
Make no mistake, there are people very aware of the under workings of human psychology and will manipulate it to whatever ends suit their desires. Mass hypnosis is caused through a careful manipulation of ego, pharmaceuticals, food, technology (blue-light) addiction, and propaganda via the media, religion, news, movies, and education.  I will not expand much on this as it is an easily studied and documented subject.  Quickly though, they use 'buzz words', colors, sounds or combination of each that get people into an emotional state. Once in an emotional state you lose much the ability to analyze and critically think.  When they have you in an emotional state they use ego/sub-conscious manipulation so they can make you think you need to own something or you need to fear something.  Advertising firms and news companies have hired full-time psychologists; whose job it is to make sure they are manipulating the human psyche most effectively.
"You will continue to suffer if you have an emotional reaction to everything that is said to you. True power is sitting back and observing things with logic. True power is restraint. If words control you that means everyone else can control you. Breathe and allow things to pass."~Unknown
Solution: Learn how to control your emotions and impulses. Recognize when something is trying to use your emotions in order to make you believe in an idea. If you want to buy something ask yourself "Why do I want to buy this?" Study what propaganda looks like and how to critically think. Think for yourself, question everything.
Base Desires/Procreation
Keeping much of the population in lower thought of base desires of lust, indulgence, gluttony, materialism etc, makes for easy control. If people are struggling and stuck in the lower tiers of Maslow's hierarchy, not able to feel safe, loved, 'at home' and, content; then most will not engage in philosophical thought, meditation or contemplation. With no control of base desire and the Masters of Manipulation promotion of it, people are kept in a vicious cycle. You can see how society is engineered to promote these ideals in one form or another. Sex sells, and people have a genetic and social programming to find a mate and reproduce. Many people are conditioned to think the goal of life is to get, married, buy a house and have a kid; an ongoing replication of the previous generation.
Having children and reproducing is not bad per se. The issue arises when young people have kids, and are not mature enough to realize/reflect/comprehend the importance, sanctity, amount of time, money and energy it takes to bring life into this realm. When people have kids so much of their time and energy are taken up they have little time to ever read, discover new things, meditate, contemplate, express creativity etc. It is already hard enough to work full time, cook/eat healthy, exercise and do your hobbies, with no kids.  A majority of parents time is now ensuring the new life they brought into this realm succeeds, as they should. Unfortunately, some parents do not ensure or care about their child's success. This neglect, pain, and suffering creates a vicious cycle. Many children that were abuse/neglect victims, in order escape the pain brought from their childhood, usually become attached to a base desire, resulting in addiction. These hurt people sometimes hurt other people, have children and the cycle continues.  The scale can vary and sometimes they are addicted not to substances but to zealous religious denomination or a belief.  They raise their children with the same propaganda attachment, ignorance and arrogance. One example is from the movie Idocracy, where they explain that the least intelligent people have the most kids and the most intelligent people have the least kids.
Like everything else in the realm this has been purposely engineered that way; keep people lusting for wealth and each other.  Encourage them to have many children, and while they work the grind to survive and provide for their children, they never have the time to become aware of anything except what they are programmed to accept. There little free time is spent partying, watching sports, shopping etc.
Solution
Wait to have kids, think for yourself, don't fall for programming and propaganda. Tell people willing to listen to wait to have children and the amount of physical, mental and spiritual maturity and preparation that is need to bring life, the proper way, into this realm.
Materialistic Nihilism 
This is the belief system that many people have been hypnotized via propaganda into accepting. It comes in many different packages but the focus is the same: a perspective that puts material items, appearance and money above all things. These are usually, cloths, jewelry, shoes, cars and anything else that gives the illusion of wealth. It is a product of the consumer age we have been becoming more controlled by since at least the 1950's. I call it Nihilism not in the philosophical sense of having no set beliefs, as this book in many ways adheres to that term and ideology. The key word is materialistic, as their total focus is on material things and they have no set of spiritual beliefs whether it is religious or other. They do not even have a knowledge or conviction of science or appreciation for perceived intelligence, which you see in the Atheist vs. Theist dialectic. This materialist nihilism is promoted to kids at an early age and many unfortunately become programmed by it. For instance watch young kids, who look up to and model the behavior of people such as the Paul brothers, Kardashians,  Danielle Bregoli, modern "music" celebrities, and the now obsolete Lil Tay. All of these people project an Archetypal form of the Materialistic Nihilism, engineered to turn into a stereotype.
Solution: Don't be persuaded by the masses, think for yourself. Observe and be aware what media is trying to propagate as popular and cool and trying to sell you on. Teach children and young adults that these are not role models and should be what they avoid becoming like. Point out the similarities in destructive behavior to people that WANT to listen.
Turn engineered, destructive Archetypes into Stereotypes.
The masters of manipulation engineer or at least promote the popularity of Archetypal personality complexes, preferably pathological, with self-destructive and Materialistic Nihilism traits. Once they become a popular enough stereotype they become a sub-culture. There are plenty I can think of some more destructive than others such as: Jersey Shore/Guiddos, Gangster, Valley Girl, Goth, Frat Bros, etc.
The characteristics are: there is little to no individuality, they dress similar if not identical, use the same sayings/vernacular, and listen to the same music; basically they are all replicas of each other, at least with their outward persona. Obviously people do this to feel accepted and part of something, a normal social desire, however many let the Archetype become who and what they are.  At minimum individuals get further away from their true self while playing with the stereotypical persona, this hopefully will be a phase they can grow from and look back and laugh at. At worst they become part of a type of group/hive mind, such as joining in gangs or other extremist views, and can become dangerous to those they see as others.
Solution: Recognize archetypes that become stereotypes, be hard to persuade and influence. Think for yourself; make your own style and your own Archetypes.
Engineering disease- Processed Food, anti-nutrition and Pharma Cartel
"Let thy food be thy medicine and thy medicine be thy food"~ Hippocrates
It is apparent that the western diet of processed food/sugar is very unhealthy and creates a number of medical/mental issues. Of course the Masters of Manipulation engineer our food and medicine in this way to maximize profit, humiliation and suffering. There is a cartel system between the big agriculture/GMO such as Monsanto, processed food corporations, the FDA, CDC, Pharmaceuticals, Doctors, medical school education/protocol, etc. The con is simple provide poisonous, addicting food full of additives for low cost and easy convenience (fast-food), keep people ignorant of the damaging effects, over prescribe pharmaceuticals with numerous side-effects while ignoring diets, create revolving door of patients dependent on the pharmaceuticals, maximize profit by grossly inflating the cost of everything.  This creates a corrupt industry driven by profit off of disease/sickness, debt, suffering and the all the energy associated with it. It keeps people from being able to reach much philosophical thought as it is hard to think, concentrate, and meditate etc when in pain from disease or pharmaceutical side effects.  With so much money and power there is little incentive to actually cure anything, it is much more profitable to just treat everything.
People are slowly becoming more aware of how diet has great effect over their thinking, energy levels, health and many other issues.  Western doctors, much of the time, ignore what people are eating and are eager to just prescribe pharmaceuticals with loads of detrimental side effects, in order to profit from kickbacks. Don't get me wrong western medicine can be great for helping with trauma/surgery, as in if you fall out of a tree they do can do a good job of putting your body back together. Preventative and allopathic medicine however, are not good in many ways, and seem to actually promote more diseases/medical issues then they help with. We also see via a Johns Hopkins study that claims more than 250,000 people in the U.S. die every year from medical errors. Other reports claim the numbers to be as high as 440,000. These deaths are third only to heart-disease and cancer…  Has the first statement of the Hippocratic Oath being "Do no Harm" become the Hypocrite Oath?
*There has been a recent dialectics between alternative methods that were used in the past and their safety today such as using Chlorine Dioxide Solution protocol (MMS), Pure Gum Spirits of Turpentine, colloidal silver, ect. Remember that: "The dose makes the poison" "All things are poison, and nothing is without poison, the dosage alone makes it so a thing is not a poison."
Solution: Educate yourself on what healthy eating actually is, your sandwich with deli meat is not healthy. Cut out all processed food /sugar/flour, the Paleo diet is popular now and has plenty of recipes available. You can also try a raw, plant based diet to see if this makes you feel better. Observe how you feel after starting the diet. Be patient, it takes a long time to rectify the damage inflicted on your body from years of unhealthy diet. Exercise, meditate and do other healthy activities for mind, body, spirit. Get a second and third opinion from other doctors when your health is involved, see a nutritionist or study about it. There are many doctors now becoming dual certified in both holistic care and traditional medicine, seek them out.  Study alternative medical theories such as German New Medicine, Homeopathy, Naturopathy, Holistic, Alkaline vs. Acidic etc. Think for yourself, listen to your body.
"I believe depression is legitimate. But I also believe that if you don't; exercise, eat nutritious food, get sunlight, get enough sleep, consumes positive material, surround yourself with support, then you aren't giving yourself a fighting chance."~J Carrey
"The art of healing comes from nature, not from the physician. Therefore the physician must start from nature, with an open mind."
Additional research: https://cluesforum.info/viewtopic.php?f=27&t=2108  https://cluesforum.info/viewtopic.php?f=29&t=2027
Fiat Money Magick-The Great Con, exchange your time and energy for paper
Our money system is the most tangible and observable system of control. How it works:
Money doesn't grow on trees, that would take too long, it is created out of thin air with nothing but imagination and belief.
"The global monetary system is what's called a Fiat system in which money is a storage medium for purchasing power and a substitute for barter. Most of the world's money is called fiat money, meaning it is accepted as money because a government says that it's legal tender, and the public has enough confidence and faith in the money's ability to serve as a storage medium for purchasing power.
A fiat system is based on a government's mandate that the paper currency it prints is legal tender for making financial transactions. Legal tender means that the money is backed by the full faith and credit of the government that issues it. In other words, the government promises to be good for it." dummies.com
So it is literally only valuable because you have faith in it. It is worth less than the paper it is printed on, but we collectively uphold this and are forced to use it. You will be homeless, in jail or killed if you do not abide by this system, at least in the western countries.
"Central banks create money by issuing interest-free currency notes and selling them to the public (government) in exchange for interest-bearing assets such as government bonds. In contrast to a commercial bank, a central bank possesses a monopoly on increasing the monetary base in the state, and also generally controls the printing/coining of the national currency, which serves as the state's legal tender.  A central bank also acts as a lender of last resort to the banking sector during times of financial crisis." Wiki
When banks run out of money they call the fed which gives them more imaginary money, which they lend out with interest. So they are lending money they never had, with interest to force you and your family to be debt slaves.
"Money is "created" in a debt-based monetary system. Money only comes into being when credit is established. You walk into a bank, borrow $250,000 for a new Ferrari, a mark is made on the bank's ledger, and VOILA! $250,000 exists where it didn't exist before, simply by virtue of the fact you signed your name on a piece of paper promising to pay back that sum of money. And now, by the magic of "fractional reserve banking", the fraudsters can now loan out 10 times that amount to other unsuspecting victims. A thing of real beauty, isn't it?"
Money is quite literally an exchange for our mental, physical, spiritual energy and time. Why do we collectively allow them to decide what our worth is? What is your time is worth? What is your value?
There are literally multiple books, articles, websites and videos on this subject and this must be studied if you want to free yourselves, your families, children, and future generations from this demonic system.  Since there is so much information on this I do not want to use more of this writing to elaborate on this fraud.  You can read: The Creature of Jekyll Island and check out some websites: http://tapnewswire.com/2015/10/babylonian-money-magic-how-modern-commercial-law-is-based-on-ancient-babylonian-codes/
https://www.reddit.com/r/C_S_T/comments/7k4ubq/how_babylonian_money_magic_is_used_to_destroy_our/
Solution: Think for yourself, realize the fraud and deception, and spread the information into the collective. Things will only change when a majority of people wake up. People that are rich in this system will have no desire to change it and if anything fight very hard to keep it. It must first start with you though.  Health, nutrition, war, crime etc. are all products of this fiat system, if we could get rid of fiat money we would have things like: "Instead of convenient stores being packed with addictive sugary products and cigarettes/alcohol that generate dollars, they would more focus on healthy but delicious things to help with people's health and pleasure. B. There wouldn't be any money in crime. People would all do stuff that benefits society because there is no longer money to be made by hurting society such as with drug dealers, human traffickers, or gangsters. C. The hospitals would no longer withhold all the fancy, organic medicines and treatments. They only do that now because they make more money with the 1940s equipment they are using that also happens to torture the patients. The good, organic stuff is more effective and painless so the entire medical community would upgrade. D. People would no longer hate their jobs since everyone would be able to work any job they want at anytime." ~Reddit
Pain and Pleasure
We are conditioned by pain and pleasure, a world of Pavlov's dogs. We get conditioned and sometimes addicted to the dopamine releases that come from our technology, sex, food, drugs and consumerism. One theory is that we do basically everything because our desire for sex. You can observe no matter the gender, sex, or preference; many people spend ridiculous amounts of energy trying to make themselves more appealing to others. This typically, not always, takes the form of materialistic nihilism and playing the Stereotypes that are popular and cool for that time.
Of course no one (mostly) wants to be subjected to violence, kidnapping etc. but this is what happens if you become a threat to the establishment. If you get a large group, with a purpose and motivation that begins to mobilize prepare to be squashed and infiltrated. This is observed through uprisings, no matter the country or issues, such as the Yellow Vests in France, Occupying Wall Street, or the students in Hong Kong, the riot police will make sure to the movement does not make it far and make sure by threat and action of violence you do not pursue it for long.
Solution: Have strong will and control over your thoughts, emotions, impulses, and actions. Think for yourself, know how to defend yourself. Don't join movements that create further dividing dialectics.
Virtue and good intentions
"The road to hell is paved with good intentions."
If you want people to commit atrocities against their fellow humans make them believe they are virtuous and the intentions are for the betterment of their society. This is what almost every soldier, no matter the army or war, thinks. They believe they are on the side fighting for freedom, virtue, truth and good intentions. (I understand some join because of poverty and seeing it as the best job.)All extremist ideologies have this belief whether they are religiously, politically or nationally motivated. Give people some money, medals, and perceived honor and glory and they will do just about anything you ask. All wars will continue until soldiers realize they are fighting for central bank/ military industrial corporation's profit, and resource control, no matter what the propaganda tells them and the citizens.
Another example of this is the, War on Drugs. They have good intention of illegalizing drugs that are perceived as dangerous to people's health and society. However their good intention, at least how they sell it to the public via propaganda, is really just a front for despotism, control of others bodies and consciousness, private prison profit, militarized police and less freedom/liberty. People that are addicts are a majority of time victims of childhood trauma or some other form of PTSD/imbalance. They need help, not to be locked in a cage with violent criminals. Prohibition also causes black market demand creating more overdoses, tainted/laced supplies, leading to gangs, cartels and violence. The Masters of Manipulation, very aware of this cause and effect, purposely engineer this illegality so they can control both the cartels and the regulatory alphabet agencies that import and distribute drugs. All wars whether against other countries or on drugs creates an enormous amount of monetary profit, power and loosh from the stress, violence and suffering.
Solution: Don't fall for the propaganda, think for yourself. Do not join large groups that have legalized violence toward others. No matter the terminology or how they dress it up with badges, medals, uniforms, honor, glory and patriotism; using violence against people that are not committing real crimes (victimless crimes) or with people that are in their own homeland is wrong. No matter whether they change the terminology by instead of saying the civilians are bombed, killed or shot they are a casualty of war or collateral damage, other language manipulation is home invasion as raids, kidnapping as arrest, extortion through violence as tickets and legal system etc.
Language manipulation – "The basic tool for the manipulation of reality is the manipulation of words. If you can control the meaning of words, you can control the people who must use the words." Philip K. Dick
Manipulation through words, to cast a spell is to spell a word.  You can call it word play, syntax, mental/phonetic magick, language manipulation, cultural imperialism etc. Words/letters are symbols and sigils, becoming archetypes that they convey ideas though. If you can control the idea of what a word means you can control people's minds. For example, what is the first image you think of when you hear the word: American. What visuals do you get? Is it a person, what do they look like? Geography?  Flag? Now what do you think when you hear the word Swastika? Probably Nazis or something related to them? Why not Jainism? Or the other cultures/religions that used swastikas? Because we have been conditioned to think this way and perceive the Swastika for its inverted meaning. We can see a recent version of with the word ISIS, for a long period of time representing an Egyptian goddess that was  caring and loved all. Now the Masters of Manipulation have inverted this meaning to be an extremist, misogynistic ideology/group. This is magick and has profound effects on the collective conscious and sub-conscious.
We can also see how homophones and word play can be used, for instance:
Thought vs Thot.  Begone Thought! The seductive temptress that distracts and persuades, and if we don't have control of ourselves can allow both thoughts/thots to bring demise.
TEL-E-VISION  pronounced TELL-A-VISION which has programs, in order to program the viewer.
MON-EY - MON-EYE  (One Eye)
Currency - Current Sea flowing into the riverbanks.
"To find the covert or hidden meanings of the word battery, you need to understand how the words charge and battery are used in court and business. Once you learn how to do this and connect the words charge and battery to law, commerce, and business, you will know the deeper meanings of the word battery.
In legal term, when someone gets beaten up, that person is often referred to as a "victim of battery." If the victim presses charges, the person who has committed the battery will be summoned to go to court to face the charges…
The word battery is an important word in commerce and law, because it has to do with the process of harnessing the energy of humanity. In other words, this is one of the many methods that they used to drain your energy.
This energy is then used by the Controllers to charge their corporations ("corpses" or "dead entities"), banks, and other commerce systems, so that they can keep their game of conning humanity going. Without our energy to charge their corporations and commerce systems, their con game will not have enough power to stay on. As human beings, we are being used as "batteries."
This is why before we go to court; we have to be charged first. At the court hearing, the judge will read the charges and then charge them off after a verdict or judgment is made. If there is a fine or fee included in the judgment, the defendant will be ordered to pay the fine with currency. The covert meaning of the word currency has to do with the "flow of energy." This is why the stored energy in a battery is called "electric current" or the "currency of electricity."~ The Esoteric Definition of Battery.
Many of these connections can be made between other languages especially Latin.  As well as common phonetic phrases such EL-ELert, MissiEL, Eleven, Elite, Elders, Eluminati etc. UR- SatURn, Urn, bURn, learn. etc.
It is important to note that many people have different feelings toward different words as well and the same word will activate different parts of each individual's Neural Network. For instance the word shoe will bring different feeling from a person with no interest shoes compared to a shoe collector compared a shoe maker etc.
Solution: Use your words wisely they are very powerful. Observe and be aware when people are trying to manipulate words to mean something different then they originally meant. Think for yourself, don't let words control you.
Human Nature
What is Human Nature?
"As above, so below"
I perceive human nature as: empathetic and playfulness. They want to tell humans they are violent and pathological, however I believe these are most commonly learned traits.  Nurture is stronger than nature. I believe empathy and playfulness can be our greatest strengths if we allowed them to. However our egos interfere as do the hardships of life and our two greatest strengths that can also become some of our greatest weaknesses.
If you observe the young of any mammal they play. Human nature and all mammalian nature are to play. Animals typically teach their young through play, watch felines, dogs, or dolphins for instance. Humans learn many lessons through playing sports, with friends, board games, video games etc.  Children and adults lose themselves in this play and become immersed by it. One interpretation of reality is this is all a game; at a spiritual level, on a large scale with larger consequences.
The way this is manipulated is it seems we are almost obsessed with our games and playing. We become entertained by simply watching other people playing games, becoming fanatics or fans. We see the amount of energy taken from massive amounts of people that are fans of the teams no matter the sport.  Stadiums with up to over a 100,000 people gathered there for 3+ hours screaming, becoming emotional and directing all their energy to this game they are not even playing. Just think if you took all those people and that energy and used it toward something productive like urban gardening, cleaning trash, educating themselves, helping each other etc....The utopias that could be. As a PE teacher and former athlete I understand the suspense, joy, life lessons, exercise and numerous benefits of participating in sports/games. I even have a healthy appreciation of watching and going to live sporting events. I even recommend people to do some type of physical activity/sport they enjoy, it helps in many ways, I do BJJ and Muay Thai for instance.  Just be aware of the absurdity and how much energy is put into watching these professional events.  Observe the destructive stereotypes that can be created by fans and the hive/group mind and other thought-forms that can operate at large sporting events.
"Give them bread and circuses and they will never revolt."~Juvenal
Gambling is a form of playing that usually target obsessive-compulsive personality complexes.  There are many forms but involve some type of game, whether you are playing or betting on others.  This is easily observed of how it is a controlling mechanism by both the addictions and hardships it causes but also the propagation of fiat money and the laundering of it. You can read plenty about these topics online.
Video games are also now used as a controlling device of many people. Some games are created for the sole purpose of becoming addicting, usually involving micro-transactions and using methods of hypnosis found in Casinos of certain colors and sound patterns.  Many people can become and are addicted to video games for many reasons: escape, bored, depression, avoidance of real issues etc. Don't get me wrong, I enjoy video games myself, but there needs to be healthy balance of energy and time spent playing them. You can define what this is.
Again, games in all forms are fun and are a product of our spiritual nature of playfulness. Play them, enjoy them, learn from them, grow from them, and experience everything they have to offer. Just be aware of your energy and those you care about and how much they spend toward games and if these become unhealthy or addictions.
Observe a baby, make a face, do a hand gesture, they will more often than not, try to imitate. You can call this developmental instinct or empathetic nature it makes no difference to me. It demonstrates that from the start of life humans are empathetic. This empathy can grow or shrink depending on experience but it was there for at least a short time. This empathy makes us think others are thinking like us, or at least similar to us. We believe others feel like us and have emotions like us and are empathetic like us. This is great, and we should have this perception toward all living things, however balanced with strong mind and will.
Our empathy is manipulated because we can become naive into thinking all others are good like we are, and let our guard down. Unfortunately some people have little to no empathy and have no good intentions; maybe they had bad experiences or maybe they are not even really human, just a soul-less robot in a human body. They use our empathy against us, because most people cannot conceive the type of evil and wickedness they are up to. We want to think people in power like politicians, successful businessmen, celebrities, etc can be trusted, because trust is a empathetic trait. Sadly, we cannot trust them or the personas they play.
You must find a balance as to not become cold, distrusting and paranoid toward everyone but not too naive, trusting, unaware of your surroundings. It is imperative that you are mindful of having awareness of people, your intuition/gut-feeling, situations, environments, the vibes you get, and other information around you. You must have the willpower to be in tune with multiple parts of yourself and have keen observation skills.  If you have any doubt at all about a person this means you should not trust them. You do not have to be rude or mean to them, just be aware when around them. It is up to you find your balance between empathy and defense.
Organizations
Organizations worth taking a gander, some of these groups overlap, and there are orders within organizations, and orders within orders, some have various 'separate' orders/schools connected to them. People can be in more than one order as well.
Practically all religions, philosophies, or esoteric systems can be inverted and corrupted. Most of these 'groups' have both: schools/ cells/ congregations/ denominations/ lodges ect. that that work for the freedom and embetterment of humanity; while others schools- of the same name and system (inverted though)- work for their own personal material power, enslavement and loosh.
Freemasonry (Blue, Scottish, York Rite, Swedish, Grand Orient, Prince Hall, etc),Royal Arch, Shriners,  Primitive Rit-- Elus Cohen-- Grand Sovereign inspector generals, Orange Order, Supreme Council, Order of Demolay,  Royal Order of Jesters , Boston Elite, Knickerbocker Club, Metropolitan Club, The Pacific-Union Club, Ancient Rites/Order, UR Lodge, Cerneau, Club 33, Odd Fellows, Knights Hospitaller, Livonian Brothers of the Sword—The Cambridge Apostles—Order of St Lazurus—Order of Bath—Order of Calatrava-- Sacred Military Constantinian Order of Saint George-- Seven Society, The Benevolent and Protective Order of Elks, Loyal Order of Moose, Knights of Pythagoras, Ancient Order of United Workmen—Cistercians—Rosicrucians— Brothers of the Rosy Cross—Societas Rosicruciana in Anglia—Orden des Gold- und Rosenkreutz—Cult of GAOTU—Rose Croix—AMORC—Rosa-Cruz—Memphis- Misraim—Knights Templar ,Knights of Columbus—Dominican Order-- Order of Santiago-- Knights of Maccabees,  Knights of Malta, Opus Die, Jesuits--Teutonic Knights-- Mafia, Elders of Zion, The Elders— Hermetic Order of the Golden Dawn— Martinism— Stella Matutina— Stella Sapiente— The Alpha et Omega—OTO-- A:.A:. Argentum Astrum, OTOA, Thelema, Order of nine angles--The Eighth Circle--Universal Order of the Morning Star--  Hermetic Brotherhood of Light, Order of the Asiatic Brethren, Hermetic brotherhood of Luxor, Alumbrados, Chronozon Club,  Cult of the Black Snake, La Couleuvre Noire, société des sorciers ,  fraternitas saturni, Temple of Set, order of the trapezoid, Church of Satan, Discordianism, Wicca, Hamatsa, Falun Gong, Family International, Friends of Man, Fung Loy Kok, Heathenry, Typhonian Order, The Caliphate, Qabalistic Alchemist Church,  Fraternitas Rosicruciana Antiqua, Ecclesia Gnostica Catholica, Ecclesia Gnostica Spiritualis, Order of the Solar Temple, Illuminates of Thanateros,  Thee Temple Psychick Youth, Filiki Etaireia, Builders of Adytum, The Round Table, The East India company, Druids, Bards, IRA, Fabians, Duk-Duk, Le Cercle, Carbonari, Armanen-Orden, Irish Republican Brotherhood, Brethren of the Free Spirit, Friends of God, Sovereign Military order of Malta, Knights of Malta, Order of Joachites, Qumran, Katipunan, La Trinitaria, The Hawaiian League, Ordo Militiæ Templi Cruci, Order of Merit of France,  Vril , Essenes, Thule , order of the black sun, Black Nobility, MKoften , Pan society, Order of St John, Priory of Sion, Leopard Society, Psi Chi, P2 (Propaganda Due) Lodge, Edda Society, Order of the Arrow, Order of the Siver Star, Order of the EYE of Set, La Société Voudon Gnostique, Gnostic Vodoun/Vodoo, Hoodoo, Les Vudu, Red sects,  Order of the Holy Sepulchre, Sylvestrine Order, Order of St. Gregory the Great, Pian Order, Order of the Golden Spur, aetherius society,bektashi order, Supreme Order of Christ, Octogon (swiss pharos), Atonists, Priests of Amon- Ra, Phoenicians, Cult of Baal, Order of the Garter, Gehlen Org, MJ-12— Royal Victorian Order,  the Hashashin, Assasins, Sicarii, Brethren of Purity, The Fenian Brotherhood, Unitarians, World Council of Churches , The Palladium, Bavarian Illuminati, Temple of the True Inner Light, Phi Beta Kappa, The Black Boulé, Ancient Illuminated Seers of the Eschaton, the 9, the 7,Germanenorden, Afrikaner Broederbond, Bohemian Grove, Bildeberg, Tri-lateral, Shabtai,  Order B'rith Abraham, Naqshbandi-Haqqani Golden Chain, Majestic 12, Skull & Bones, Ancient Order of Hibernians, Royal Institute of International Affairs, Tavistock Institute,  Royal Arcanum, Scroll and Key,  Club of Rome, Achad Society, Tavistock, Council on Foreign Relations, Order of Patrons of Husbandry, servants of the light, Jung Society, 99 Lodge, Vienna Psychoanalytic Society, Veiled Prophet Organization,  Tyrodal Knights, The Brotherhood, Brotherhood of the Serpant—Landig Group-- Black Lodge, White Lodge, The Order, Knights of Pythias, CERN,  Hidden Hand, The black hand, The Union Of Salvation, Knights of the golden circle, ANAK society, Hellfire Club, Solar Lodge, Hui, Aum Shinrikyo, White Lotus--Order of the Dragon-- Red Dragon Society, Dragon Society, Green Dragon order, black dragon fighting society, Flat Hat club, Z society, Sarmoung Brotherhood,  Odessa, Cicada 3301, the process church, 93 society, Society of 23, 1001 club, Cult of Hades, Ninth Circle, Cult of Lam, Committee of 300, The Great White Brotherhood,  The Invisible college, the brotherhood of eternal love, Order of Melchizedek, Theosophical Society, Philosophical Research Society--Magician-Nazarene--  Anonymous, Secret Ascended Chiefs of the Golden Dawn, Ordo Aurum Solis,  The Church of the SubGenius, The Friends of Hecate, The Cult of Cthulhu, Charter House School--Eton College, The Invisibles, Company of Jesus, High Grey Council of Ten—Brotherhood of the New life—Rawshaniyya—Roshaniya-- Mendicant Orders --The Esoteric Order of Dagon—Society for Psychical Research, the many and various criminal cartels, gangs all the intelligence/Alphabet agencies. And more…
Here are some powerful families/dynasties to research if interested: House of Bernadotte, Sweden, House of Bourbon, France, House of Braganza, Portugal House of Grimaldi, Monaco, House of Guelph, Britain , House of Habsburg, Austria, House of Hanover, Germany), House of Hohenzollern, Germany, House of Karadjordjevic, Yugoslavia (former) House of Liechtenstein, Liechtenstein House of Nassau, Luxembourg (Ducal) House of Oldenburg, Denmark House of Orange, Netherlands House of Savoy, Italy House of Wettin, Belgium House of Wittelsbach, Germany House of Württemberg, Germany House of Zogu, Albania, House of Saxe-Coburg and Gotha, House of Chigi, House of Welf, Tudor, Stuart, Lancaster, Pallavicini, all the families you will find on the Windsor family tree
Rothschild , House of Piccolomini, Colonna, Massimo, Orsini, Ruspoli, Pallavicini, Theodoli, Sacchetti, Borghese, Odescalchi, and Boncompagni-Ludovisi. Major extinct papal families include the Savelli, Caetani, the Aldobrandini and Conti.  Ghibellines, Grosvenors
House of Borja, Breakspeare, Somaglia, House of Orsini, House of Conti, House of Chigi, House of Colonna, House of Farnese, House of Medici, House of Gaetani, House of Pamphili, House of Este
House of Aldobrandini
Merovingian, Charlemagne, Carolingian, Capetian, Valois, Bourbon,  Salian, Ottonian, Hohenstaufen, Rurik, Hohenzollern, Romanov, Bonaparte, Plantagenet, Osman, Komnenos, Grimaldi, Macedonian
Astor, Bundy, Collins, DuPont, Freeman, Li, Onassis,  Russell, Van Duyn, Wertheimer, Dumas
 Van Damme, De Spoelberch and De Mevius Families - Anheuser-Busch, Von Baumbach, 
Rockefellers , Payseur, Carnegie, J. P. Morgan, Vanderbilt, Ford, Koch, Walton, Bush, Clinton, Kennedy, Mars, Walton, Koch, Mellon, Coppola, Slim, Cargill-MacMillan, Gates, Bezos, Musk
Al Saud, Al Sabah, Al Thani, Hashemites, Al Maktoum, Khalifa, Rashidi, Al Nahyan, Fatimid, Al Said, Al ash-Sheikh, Ayyubid, Tahirid, Mukesh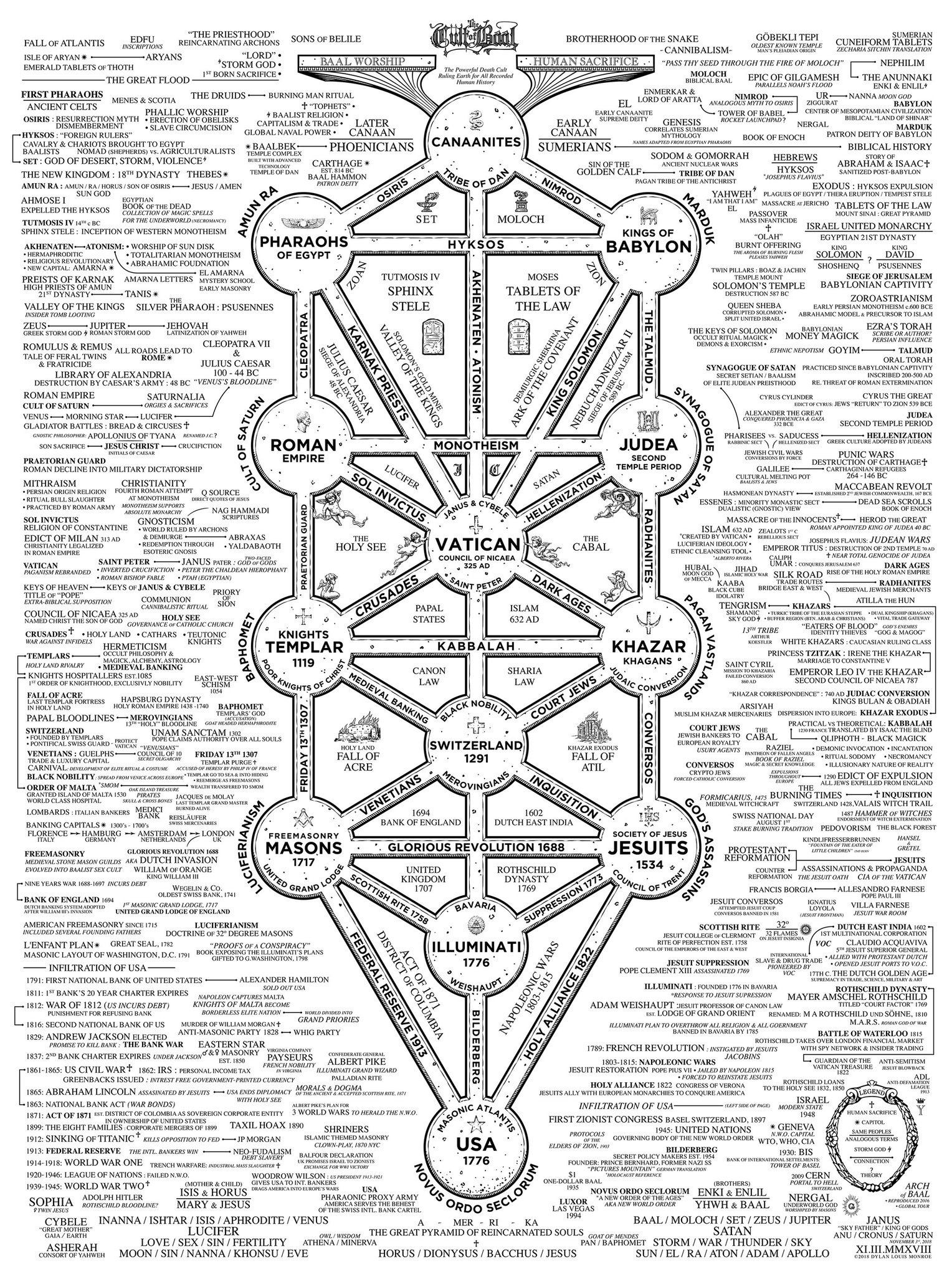 Could it be…?:
" 9/11 - as the "Hollywood production" that it was.
- NASA - as the lamest "technological supremacy" hoax of our times.
- The phony "atom" bomb - as the biggest "military" hoax of our times.
- The phony "Cold war" - as the silliest "peacetime geopolitical scary thriller" of our times (let alone WW1 and WW2!)
- Fake terror attacks staged all around the world - as the crassest "fearmongering" / ongoing soap opera of our times.
- Fake school shootings staged mostly in the USA and in the UK - as the most revolting use of supposed child murders for "emotional impact".
- The dubious "holocaust" - as opposed to true genocides such as the holomodor, and the mass murders of the armenian and native american people.
- The Big Pharma scams which regularly invent new / phony epidemics (Aids/Ebola.etc) in order to garner public support for their own profit.
- The banking / monetary / mass deceptions entertained to keep this world's population "enslaved in debt."
- And last but not least, the many scientific deceptions (in physics/cosmology/biology, etc) designed to dumb down humanity as a whole."~  SacredCowSlayer
You decide if that is plausible….
Closing thoughts:
I would not be too worried about the cult of inversion and its groups as it mostly out of our control. Our focus should be our own personal journey to gnosis and love through our own experience and perspective, in spite of internal and external forces seemingly making it more difficult. After all it is the manipulation of our ego that has gotten us to this point.  We should definitely be aware of this information and help spread awareness to those interested. Just knowing about it helps shift the conscious dream into a better one.
Notice how all of the solutions involve thinking for yourself, not thinking for your ego, assumptions, beliefs, and attachments. Until you come in communion with your true-self and can observe your own ego this will be hard.
"The Empire is the institution, the codification, of derangement; it is insane and imposes its insanity on us by violence, since its nature is a violent one. Entry #42. To fight the Empire is to be infected by its derangement. This is a paradox; whoever defeats a segment of the Empire becomes the Empire; it proliferates like a virus, imposing its form on its enemies. Thereby it becomes its enemies. Entry #43. Against the Empire is posed the living information, the plasmate or physician, which we know as the Holy Spirit or Christ discorporate. These are the two principles, the dark (the Empire) and the light (the plasmate). In the end, Mind will give victory to the latter. Each of us will die or survive according to which he aligns himself and his efforts. Each of us contains a component of each. Eventually one or the other component will triumph in each human. Zoroaster knew this, because the Wise Mind informed him. He was the first savior. Four have lived in all. A fifth is about to be born, who will differ from the others: he will rule and he will judge us"-VALIS
We are no one, we are everyone, and we are invisible.