Martial Arts-Defense of the Innocent:
"Violence is not the answer, but it's an option".
"The best defense against evil men is good men, skilled at violence."
My empathy for someone ends where the infliction of suffering/exploitation on the innocent begins. This may sound contradictory to someone who has one of their life tenets being "live with love." However, to explain further, imagine an innocent child (yours if you have one) being hurt by someone else, would you sit by and do nothing. What kind of love is that? Of course not, you would defend the child with everything you had. You will not have the time to analyze what the violent perpetrator is thinking, the love they are lacking and the events that lead up to that moment; any empathy for the perpetrators well being ends at beginning of the attack. If you want to 'live with love' then learn how to defend those that you love and the innocent.
We need more warrior-philosophers, people capable and willing to use violence, but whom have a great understanding of empathy, love, gnosis, compassion, and know what exploitation looks like. We have many warriors but if they are part of military or law enforcement, no matter their personal character (good or bad), they are part of a system based on exploitation of the weak and poor by the rich and powerful. Since there is a great lack of accountability in these jobs and permission to use violence and hold power, they attract pathological personalities or create them. If people working in these fields become aware of the corrupted system they are part of, then they can help dismantle it from within, however most are not aware and just follow orders for a paycheck. We also have many philosophers and intellects that unfortunately have never trained to defend themselves and their families, and must rely on others for protection.
Never depend on another person to defend you or your loved ones. From my perspective it is critical to have the self-discipline and will power to begin a proven martial art to ensure your and others safety. As always it is much better to have the ability and not need it, than need the ability and not have the tools or training. You most likely and hopefully will never encounter violence but if you do you must be prepared. Martial Arts can be broken down into two categories: Grappling and Striking. My personal favorite striking arts are Boxing and Muay Thai, specifically Dutch Muay Thai via the Bang Muay Thai system, which combines elements from almost all the striking arts. Next is grappling which my favorites are Brazilian Jiu-Jitsu and Wrestling, with Judo and Catch Wrestling being important as well. In today's age MMA is very popular which is a combination of all martial arts, which does a good job showing what arts are effective and which are not as effective. Other forms of MMA practiced are Combat Sambo and Sanshou.  Do yourself a favor and join a gym, preferably one that trains in multiple disciplines using realistic but controlled, live-sparing situations. This will help expand your perception by testing your physical, mental and emotional limits and crushing your ego. Nothing helps tame the ego like getting physically crushed, controlled and submitted by another grown (sometimes even teen) man/woman. This training will also help strengthen your will as you learn to persevere through fatigue and very uncomfortable situations.   To take this one step further and supplement martial arts learn how to shoot guns safely, properly, and tactically if you live somewhere that it is legal to own and do so. Never rely on someone else for protection.
The Golden Rule
The Golden Rule is the principle of treating others as one's self would wish to be treated. It is a maxim that is found in many religions and cultures:
Bahá'í Faith: Lay not on any soul a load that you would not wish to be laid upon you, and desire not for anyone the things you would not desire for yourself. Bahá'u'lláh, Gleaning
Buddhism: Treat not others in ways that you yourself would find hurtful. The Buddha, Udana-Varga 5.18
Christianity: In everything, do to others as you would have them do to you; for this is the law and the prophets. Jesus, Matthew 7:12
Confucianism: One word which sums up the basis of all good conduct....loving-kindness. Do not do to others what you do not want done to yourself. Confucius, Analects 15.23
Hinduism: This is the sum of duty: do not do to others what would cause pain if done to you. Mahabharata 5:1517
Islam: Not one of you truly believes until you wish for others what you wish for yourself. The Prophet Muhammad, Hadith
Jainism: One should treat all creatures in the world as one would like to be treated. Mahavira, Sutrakritanga 1.11.33
Judaism: What is hateful to you, do not do to your neighbor. This is the whole Torah; all the rest is commentary. Go and learn it. Hillel, Talmud, Shabbath 31a
Native Spirituality: We are as much alive as we keep the earth alive. Chief Dan George
Sikhism: I am a stranger to no one; and no one is a stranger to me. Indeed, I am a friend to all. Guru Granth Sahib, p.1299
Unitarianism: We affirm and promote respect for the interdependent web of all existence of which we are a part. Unitarian principle
Zoroastrianism: Do not do unto others whatever is injurious to yourself. Shayast-na-Shayast 13.29
Let us think about the Golden Rule philosophy and what the possible consequences are, considering they call it a rule and not a suggestion.  Is it possible that instead of the effects and belief systems of sin or karma happening; what if,when we die, do we experience all the pains and pleasures we have bestowed on others-insect, animal and human? What would your experience be like if this was so? Pleasant and enjoyable or harsh and cruel? What if you live through the eyes of the supposed "other" to see how your actions felt? After all, we seem to be one consciousness experiencing itself subjectivity/individually (In divine duality). What if all that pain or pleasure you have bestowed on others is increased? Certain wiccans, pagans and occultists say you will get what you put out times three, being termed the Three-fold Law or Law of Return. I supposed with this idea you could think to serve yourself is to serve all, to serve all is to serve yourself. To hurt another is to hurt yourself. Choose wisely.
Spiritual Expression/Creative Outlet- Music, Art, Writing, Poetry, Sculpture, Dance, Theater, etc.
It is important to have a creative expressive outlet. There are a number of ways and I recommend trying to find one or more to enjoy. Do not worry about "not being good," this is about personal growth/expression and you will get better over time, after practicing.  Many creative practices connect both sides of our brain and can make us become more in tune with ourselves and tap into streams on consciousness that we are usually unaware of. For instance music uses both feeling and mathematical theory (right and left brain) to create what is possibly one of the most powerful forms of expression.  The power allows it transcend language, culture, races, genders, etc. It brings people together in a way that can create positive collective thought-forms.
Creativity helps merge the conscious and sub-conscious and can get us into trance like meditative states where we commune with higher-mind and consciousness. Practicing any creative outlet can help us achieve gnosis, still the mind when meditating, live with love, strengthen will, and expand perception. Additional benefits are that it can give sense of purpose, power, increase mindfulness, concentration, patience, skills, mood, self-esteem and much more.
Even if it is only 10 minutes a day, find something that allows you to express yourself and DO IT. Do not think about it, you do not even need to plan. If you like art just doodle something, if you sing then start singing, dance, take the instrument you haven't played in years and play.
Subjects
Translates to "Love of Wisdom," Phil meaning Love ex. And Sophia being the goddess of wisdom or Phi-lo-Sophia "the study, wisdom, or knowledge of the amazing sight of phi" (phi being the Greek letter denoting the Golden Mean).  I believe in a world dominated by religion on one end and science on the other philosophy gives a middle ground and touches in on what makes human separate from animal, that being the ability of meta-cognition, thinking about thinking.  So love wisdom, think and study philosophy.
Wisdom
In the beginning of this writing:  we started with truth and the lack and paradox of it.  The same can be said about wisdom and the paradoxes it presents.
"A fool thinks himself to be wise, but a wise man knows himself to be a fool."
-Shakespeare
"By three methods we may learn wisdom: First, by reflection, which is noblest; second, by imitation, which is easiest; and third by experience, which is the bitterest." -Confucius.
Defined, Wisdom is the act of being wise or: knowledge of what is true or right coupled with just judgment as to action; sagacity, discernment, or insight; judgment, or discretion; characterized by or showing such power; judicious or prudent: a wise decision; possessed of or characterized by scholarly knowledge or learning; learned; having knowledge or information as to facts, circumstances. To me wisdom is taking sources, ones you agree and disagree with, synthesizing them with past experiences and knowledge, then filtering it with true loving intentions which is peacefully shared with those interested. Examples (obviously not a complete list) include: defusing conflicts peacefully, unbiased synthesis of thesis/antithesis, information that helps one to tap into states of higher consciousness, living a life that recognizes the most important things are not material, and living a life that recognizes all is living and parts of oneself.
I hope you have can gain some wisdom from this reading and the sources of people, books, websites, and terms.
Astrotheology
The moon, sun and surrounding planets in our solar system have been the primal guiding source for man to come to know thyself, planet and universe. The axiom "As above so below," hints that these beautiful luminary orbs may show humans the secrets of themselves and the universe if properly understood. Unfortunately most of this wisdom has been lost or hidden in allegory and metaphor through the ages. Derived from Astrology: study of the orbs in relation to constellations; Astronomy: science of the planets and stars and Astrolatry: meaning worship of the heavenly bodies. Astro-theology came to use around the 18th to 19th Centuries, which was used in scholarly writings investigating the science, history and applications. Astro-theology requires knowledge of astrology, astronomy, geometry, theology, mythology, psychology, sociology, and archetypes. Ever hear the expression that "it must be a full moon tonight" when people are acting strange? It is no mystery that the Moon controls tides, ovulation and many people accredit it to psychological affects too. So would the other orbs in the sky reflecting and sending radiation and other variations of energy-waves affect brain waves (psychology)? Maybe that is why some days you wake up grumpy, happy, tired or full of energy; with knowledge of your birth chart and the orbs in the sky you can better predict and prepare for certain changes and incoming energies. A important thing to note is the orbs represent Archetypal energies, not the physical planets. This field also shows evidence, through verses and varying interpretations, how practically all religions, especially Judeo-Christianity, may be a metaphor for the Sun (Jesus) and the 12 Regions of the Zodiac (12 Disciples) and most importantly Christ being a form of Cosmic-Consciousness of UNconditional LOVE within all people.
Literally means "the study of the soul," Psukhē, meaning "breath", "spirit", or "soul" and λογος or Logos referred to as "study" or "word". The word Logos, however, could have many books written on it alone and believe that those "definitions" are lacking the true power and mystique of the word Logos. Psychology today primarily deals with the study of the mind, consciousness and sub-consciousness. This field, academically speaking, defines behavioral characteristics and gives theories of why people may think and act as they do. There is an array of specified fields and sub-fields, which I see as important because I find it perplexing that with the high text-book intelligence, technical skills and memorization many in our society have, most still have the emotional and psychological control of a child. By just uttering a few words I can have someone either seething in anger or running head first into battle due to their externalized attachments, and lack of self-hood. From my observations many seek the collectivism of others to feel secure and immediately use their ego when they encounter information, no matter how relevant, that goes against their comfortable box of reality. I believe when researched together; psychology, philosophy and the esoteric sciences are much more intertwined and supplemental then recognized by most scholars and academia.
Sacred Geometry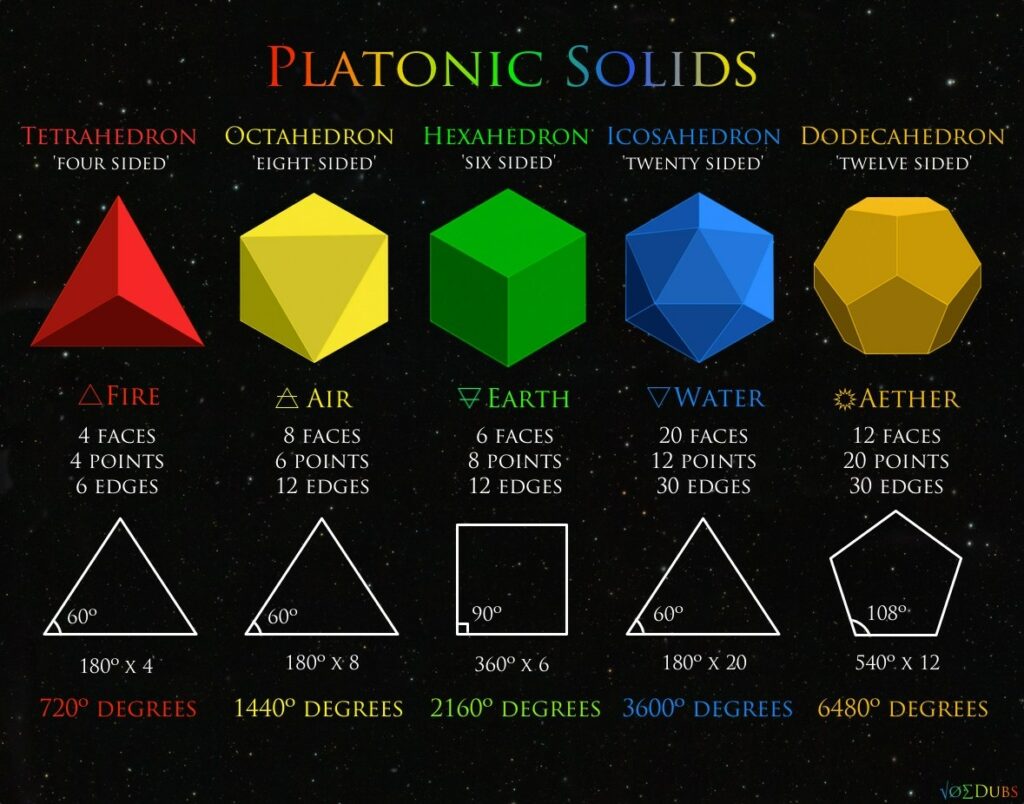 "God is a circle whose center is everywhere and circumference nowhere." ~ Voltaire.
Are we the Geometer or the Geometry?
Patterns and perception of patterns require consciousness and some type of intelligence. If nature, like described in the fractal sub-chapter, can create things based on repeating patterns, then it can be logically deduced that nature is intelligent; maybe not in a way that we can comprehend              , but intelligent none the less.
"Sacred geometry involves sacred universal patterns used in the design of everything in our reality, most often seen in sacred architecture and sacred art. The basic belief is that geometry and mathematical ratios, harmonics and proportion are also found in music, light, cosmology. This value system is seen as widespread even in prehistory, a cultural universal of the human condition…. Sacred geometry may be understood as a worldview of pattern recognition, a complex system of religious symbols and structures involving space, time and form. According to this view the basic patterns of existence are perceived as sacred. By connecting with these, a believer contemplates the Great Mysteries, and the Great Design. By studying the nature of these patterns, forms and relationships and their connections, insight may be gained into the mysteries - the laws and lore of the Universe."~ crystalinks.com
Some patterns to study are those above in picture and Phi, Pi, the golden ratio/golden mean, Lichtenberg fractal, and Sierpinski triangle.
Life Force
"This energy is the life force itself, and has as many names as there are civilizations.
In Japan the energy is called Ki and it's from this word that Reiki is named. The Taoists call life force energy Chi (Qi) and charted its movement through the body. Indian yoga adepts call it Prana and used it for charting the course of energy through the body. In the West, Dr. Wilhelm Reich discovered the same energy and called it Orgone energy. This energy or life force is known as "Mana" in Polynesia, "Ruach" in Hebrew and "Baraka" in Islamic Countries. Referred to as the Light or Holy Ghost by Christians. Bio-Plasmic Energy by Russian researchers. Some individual healers have called it Animal Magnetism, Archaeus."
Other names for it are:  Vril, Odic force, Life-force energy, Kia, Vitality, Vital Magnetism, Bio-electricity, Ching, Mana, Vital Energy, Taku Skan Skan.
"The universe is filled with different kinds of dynamic energy, or "chi." The Tao, or "way," for each man is to creatively transform his energy over a course of a lifetime back to its original state of harmonious balance."~Taoists Secrets of Love
The life force is the vehicle or energy of the mind and consciousness. It is the electricity that animates our bodies and brain. As mentioned in the Consciousness chapter:
This energy is the life force itself and is in every (true living) being in this realm. Most people do not recognize it in animals or bugs but it is there. The life force is the animating electricity that cannot be destroyed; only the conductor (body) can be destroyed. It can be interpreted as being layered or having multiple forms.
"In the physical are these channels, the blood which moves in vortical motion, reacting on the heart to continue its beating. Magnetism which moves through the nerve paths, carrier of energies to all cells and tissues. Akasa which flows through channels, subtle yet physical, completing the channels. Each of the three attuned with each other, each affecting the life of the body."-Emerlad Tablets
"The Linga-sarira, or vital body [Yesod], is our vital energies that give life to our physicality.  This vital body is the body of prana.  It is the storehouse of all the prana that descends from the top trinity, descending through the Sephiroth and finally coalescing in our vital body, which exists in the fourth dimension.  This vehicle sustains the chemical, biological, catabolic, metabolic, etheric, and vital processes of our physical body: the Sthula-sarira, Malkuth.  Without the vital body and its circulation of prana throughout the physical body, we would not be alive."
Some ways to control it are through meditation, contemplation, will power and other practices. Here are some ways to recharge or lose this energy according to yogamayam.wordpress.com:
"What are some of the biggest drains on our life force reserves? – Worries, fears, thought processes and analysis– Financial pressures – Too many distractions and inputs, sounds, visuals – Too much sexual release – Extreme levels of exercise – Heavy Spiritual Practice and Ceremony – Too much shopping and spending – Digestion of too much food, meat, processed snacks and sugar – Lack of sleep – Too much work – Too much time indoors away from nature and fresh air – Rushing – Too much talking – Noise and man-made background sounds
What are the richest sources for replenishing the life force:– Sunlight and moonlight – Deep nostril breathing  – Love – Natural earth-grown food – Walking barefoot on grass, rocks, sand – Music, singing, playing and listening to instruments– Drumming– Being outdoors in nature (by forests, ocean, lakes, streams, red rock, and other power places) – Loving touch and massage – Sacred sexual union – Yoga postures, especially in a group with a teacher/meditation – Sleep (we might be surprised by this, but the deep breathing rhythm of sleep is a huge source of the life force) – Quiet  – Spiritual practice and ceremony (sometimes just a modest amount of time, and a quick heartfelt prayer is all it takes)"
Some theorized benefits of increased life- force are increased vitality, mesmerism, health, immune system, creativity, regeneration, magnetism, charm, and attraction.  Having control/manipulation of this force is very important in being able to properly perform magick.